Together we will create an open space for new ideas, interesting conversations and a creative atmosphere.
This year we offered a new approach to Networking Village – the Creative Lounge. The 7th Strategy Forum of the EUSBSR pays particular attention to the need to facilitate dialogue and networking between the implementing partners, funding organisations and decision-makers.

The Creative Lounge was open during the whole Strategy Forum.

A place for networking, new ideas, and interesting conversations. Visit interactive exhibitions, network, find out more about the "future of fashion" using sustainable and innovative materials and creative designs, get access to a 10 year media project about the Baltic Sea environment
...and much more!

Warm welcome to the Welcome Speech on stage Tuesday 8 November at 12.10: Annika Rembe, Director-general at the Swedish Institute.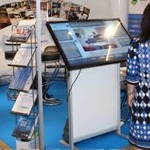 Baltic Sea Region Barista Meet Brian W. Jones and talk about the current situation for young entrepreneurs in the Baltic Sea Region. Brian is a Baltic Region Alumni, a designer and brand consultant - turned coffee professional – who splits his time between Gothenburg, Sweden and Oakland, California.
Digital Project Display. TV-Screens highlighting some of the many projects around the region within the EUSBSR. By presenting projects and their results during the Strategyforum, we would like to show the benefits the EU Strategy for the BSR provides for the countries involved, and lower the threshold for people to join the actions and the cooperate for the development of our Region.
3D-printer, Nordic Council of Ministers 3D printing is the key for a forward-looking industry! As such, 3D printing holds great potential for innovation and can contribute to a sustainable economic development in the Baltic Sea Region. In the creative lounge, policy area innovation invites you to experience 3D printing up close. This activity will engage participants in a discussion on the disruptive power of digitalization, the need for new types of entrepreneurship and the process and speed of SME internationalization
Digital application for Maritime spatial planning VASAB/ Baltic SCOPE A VASAB/Baltic SCOPE collaboration with a digital app on touch screen.
Blastic, Swedish Agency for Marine and Water Management An interactive exhibition: How do we plug the marine plastic litter tap? The project BLASTIC will give you the tools.
Cultural Gaming! Cultural gaming enables citizens and professionals to simulate their preferred future. How can such games practically contribute to macro-regional development priorities – and thereby to the vision for the Baltic Sea Region 2030? Come and find out.
Sustainable Development Goals. Swedish Institute Showcase on how the Baltic Sea Region supports progress on the SDGs by implementing the EU Strategy for the Baltic Sea Region.
Facing the Climate (Swedish Institute) All about how to Finance your Baltic Sea Region project, making your idea sustainable.
Tuesday 8 November
08:00 - 10:00
Exhibition build up
12:10
Welcome speech from the Creative Lounge Stage
12:40
Bioeconomy and innovative solutions for a sustainable Baltic fashion industry in 2030 (fashion show). Presented by Nordic Council of Ministers
15:10
Hot Seat: The political state of the Baltic Sea Region – challenges and opportunities for regional cooperation Organiser: Baltic Development Forum (BDF)
16:00 - 16:30
Macro-regional Matchmaking Presented by Let's Communicate. Meet Policy Area Coordinators (PACs) and Horizontal Action Coordinators (HACs), topic: Connect the Region + Horizontal actions
16:40-17:30
Financial opportunities in the Baltic Sea Region presented by HA Capacity

Wednesday 9 November
11:15 - 11:45
Macro-regional Matchmaking Presented by Let's Communicate. Meet PACs and HACs, topic: Increase Prosperity
12:10
Keep Sweden Tidy announces the winner of the BLASTIC competition
12:40-13:00
Who will be the next US President?
13:10 - 13:50
To save the world - Let's start with the Baltic Sea. Folke Rydén, prize winning reporter, director and producer.
14:00 - 14:30
Macroregional Matchmaking Presented by Let's Communicate. Meet PACs and HACs, topic: Save the Sea
15:00-15:50
Hot Seat: Which way is up? Young scientists take on key regional actors about desired future options for the Baltic Sea Organiser: BONUS, HELCOM, VASAB, Baltic Earth
The Creative Lounge offers a relaxed innovative environment. You won't find traditional stands this year. We have opted instead for comfortable lounging couches, perfect for brainstorming sessions, interviews and informal get-togethers to spark your creativity and teamwork.

The concept of the Creative Lounge consists of three thematic areas:
financial opportunities in the Baltic Sea Region
projects ideas and best practises
cooperation with Policy Area Coordinators (PAC) and Horizontal Action Coordinators (HAC)
Our Creative Lounge aims to give opportunities for you to team up with new project partners, creative companies and academics as well as funding institutions and the next generation to think about connectivity and the digital and physical interface of the EUSBSR. We will focus on:
thematic speed dating
creative project generator
PAC & HAC meet-up
Practical information and some advice
Due to the location and the size of the conference rooms, there will not be a place for stands this year. We offer all participants interested in presenting their projects a digital showcase.

5 tricks to maximize your time in the Creative Lounge:
The most important thing is active participation.
Make a contact list beforehand.
Have a prepared elevator speech. You never know…
Get through the programme before the event, so you have a good picture of what you are interested in.
Mingle and network.
Any questions regarding the Creative Lounge can be sent to Olga Knudsen at the Swedish Institute at strategyforum@si.se